Tracified has emerged as a leading provider of innovative solutions for secure and efficient supply chain management through the use of public blockchains. Our comprehensive suite of offerings includes SaaS platforms, seamlessly integrating blockchain-based traceability into existing webshops and mobile apps, as well as cutting-edge NFT platforms like the NFT Marketplace and NFT Composer.
A groundbreaking addition to our ecosystem is the Digital Twin NFT, which stands as a virtual representation of supply chain traceability data. Available NFTs visually present crucial data elements, including images, charts, timelines, carbon footprint data, and blockchain proofs, enabling a user-friendly understanding of the traceability information.
One of the primary advantages of our Digital Twin NFT lies in its capacity to empower businesses to capitalize on their traceability data. By creating NFTs using this data, companies can unlock new revenue streams based on its inherent value. This not only offsets data collection and storage costs but also encourages investment in advanced data collection and analysis techniques.
The seamless integration of our Digital Twin NFT with other platforms within the Tracified ecosystem, such as the NFT Marketplace, NFT Composer, and Wallet App, ensures a cohesive and efficient experience for users, enabling them to create, mint, purchase, and store these valuable assets.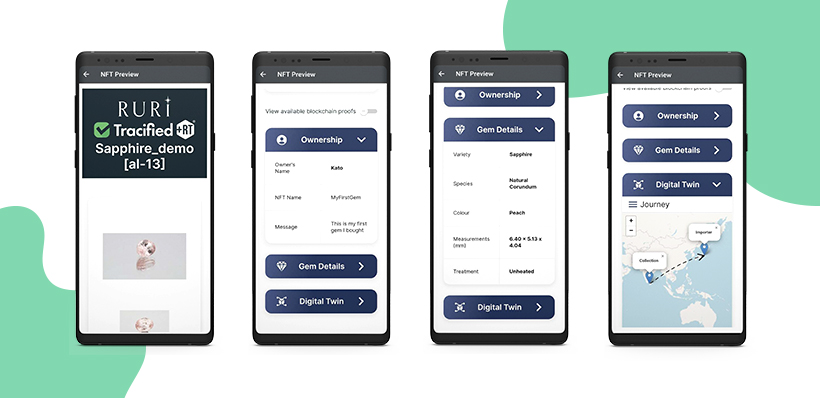 Key Features of the Digital Twin NFT:
Dynamic Data Visualization: Through intuitive charts, the NFT offers dynamic and interactive data visualization, making complex information easily comprehensible.

Transparent Product Journey: Utilizing maps and timelines, the NFT showcases the entire product journey, instilling trust and transparency among consumers.

Verifiable Blockchain Proofs: By displaying blockchain proofs, the NFT guarantees the authenticity and immutability of the traceability data.

Social Impact Representation: Furthermore, businesses can include social impact data in the NFT, highlighting their sustainability efforts and responsible practices.

Easy Issue and Transfer: Users can effortlessly mint and transfer Digital Twin NFTs, fostering custodianship for traceability data.
With Tracified's Digital Twin NFT, businesses gain unprecedented insights into their supply chains while unlocking new opportunities for growth and sustainability through the strategic utilization of their traceability data.
In this section, we'll explore how you can make your pre-made NFT truly yours by personalizing its key components. The process involves three essential elements:
Ownership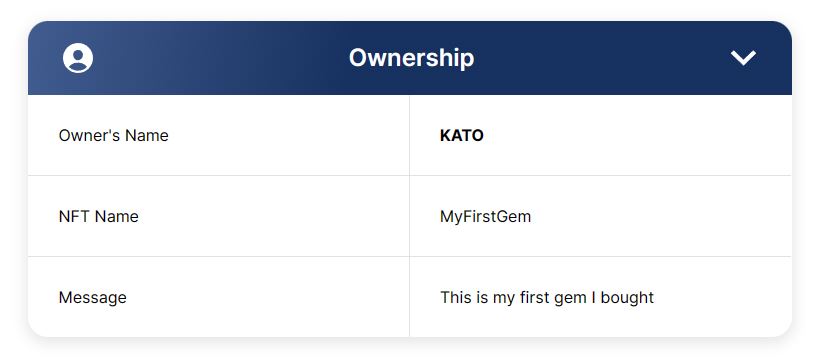 1.1 Ownership Name:
Enter a desired proprietorship name for individual personalization.
1.2 NFT Name:
Enter a custom name that will set your NFT apart from others serving as its own exclusive identifier on the Stellar blockchain.
1.3 Personalized Message:
You can add a personalized message to your NFT which will act as an integral part of the token, adding a layer to its dynamics.
Through this seamless customization process, you can now personalize the NFT to stand as an unique entity on the network.
Gem Details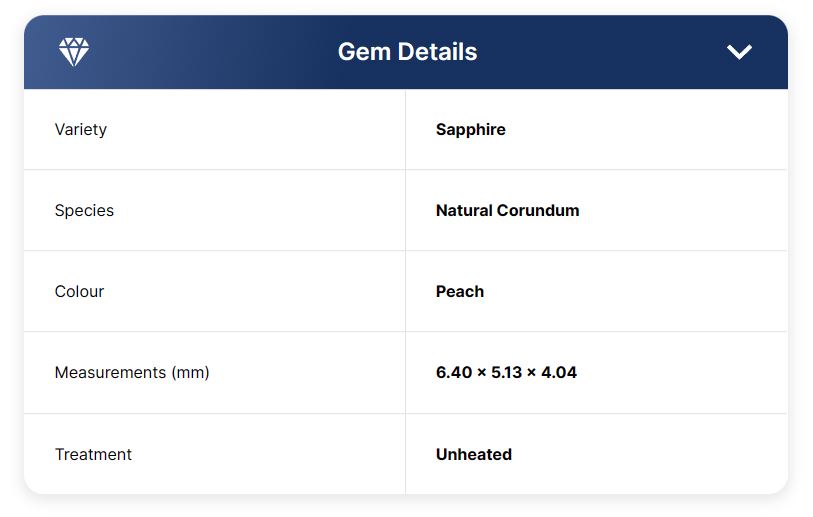 Delving into the content of the gem that serves as the bedrock for the digital twin NFT are the following attributes.
2.1 Variety of the Gem:
Emphasizes on gem diversity as a unique connotation.
2.2 Species of the Gem:
Every gemstone belongs to a distinct species, showcasing its geological origin and rare characteristics.
2.3 Measurements of the Gem:
From its carat weight to its dimensions, every detail contributes to its exceptional rarity and allure.
2.5 Treatment Details:
Showcases the gem's journey through a disclosure of its treatment history.
Digital Twin
Serving as a profound representation of the gem's existence in the digital world, meticulously documenting its journey and attributes, the following are the various segments that make up the digital twin:
3.1 Certification: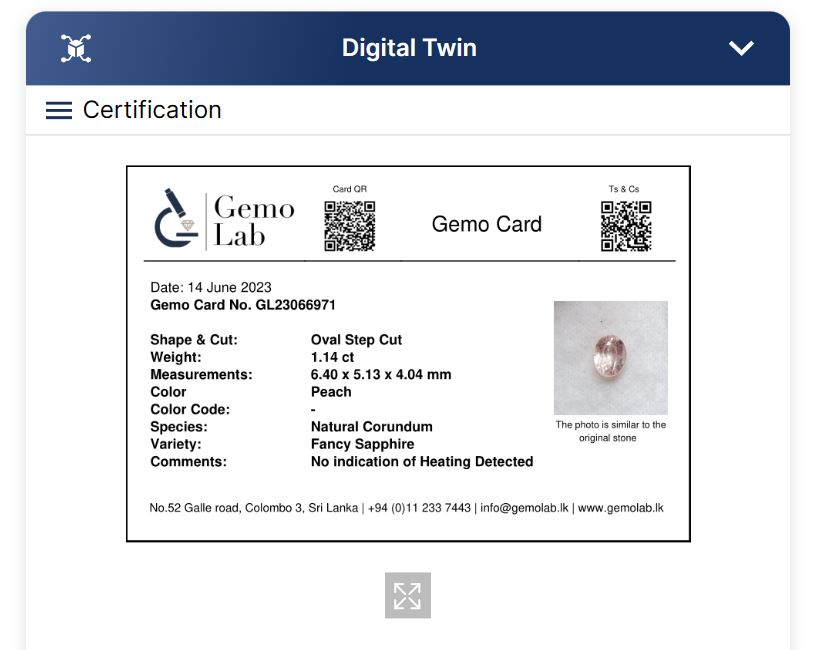 During the gem's export stage, a certificate is issued. This certification serves as a testament to the gem's authenticity and unparalleled quality, affirming its origin and verifying its noteworthy attributes.
3.2 Appraisal: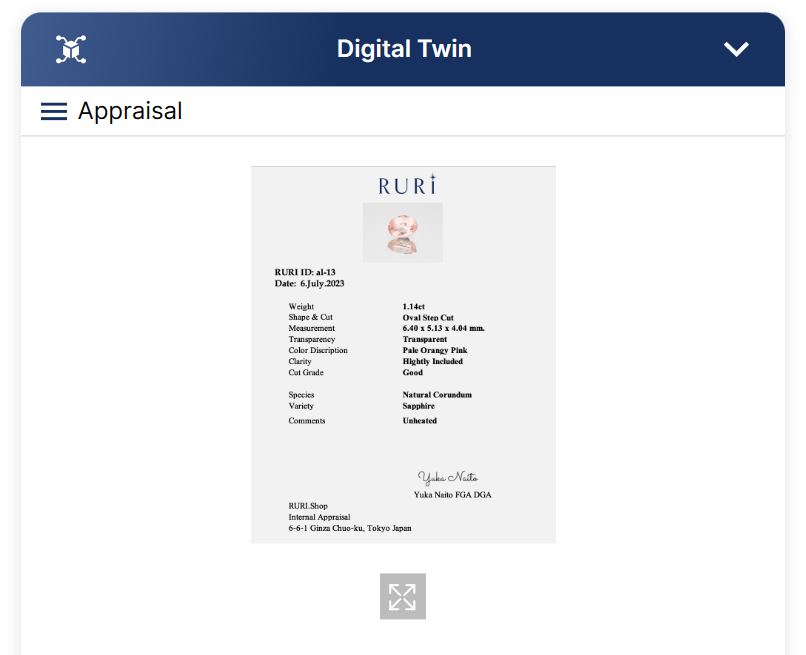 Upon reaching its destination in Japan, the gem undergoes inspection, and an appraisal certificate is issued.
3.3 Journey: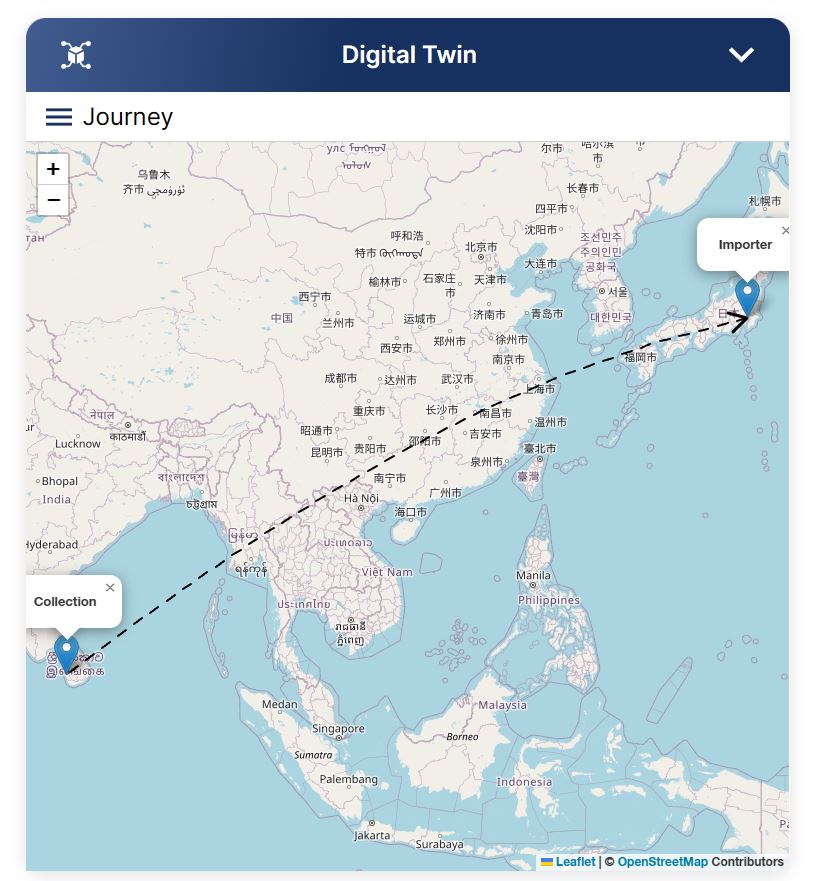 A geographical map highlighting Points of Interest (POI) and arrows, tracing the gem's voyage from Sri Lanka to Japan.
3.4 Origin: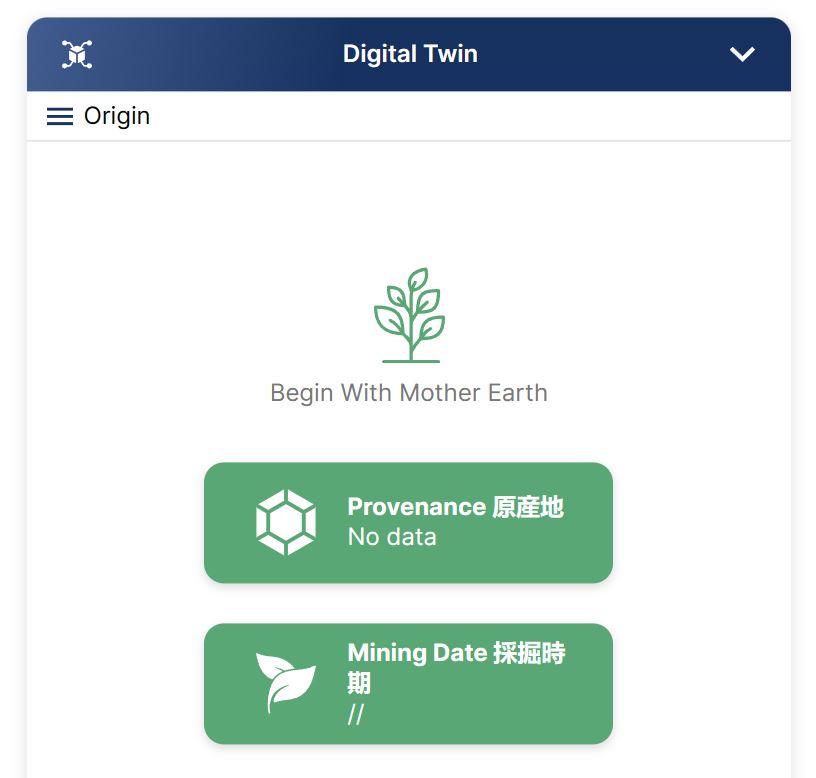 Traverse down the history of the gem which compacts crucial information such as its provenance, revealing state of origin/place.
3.5 Quality: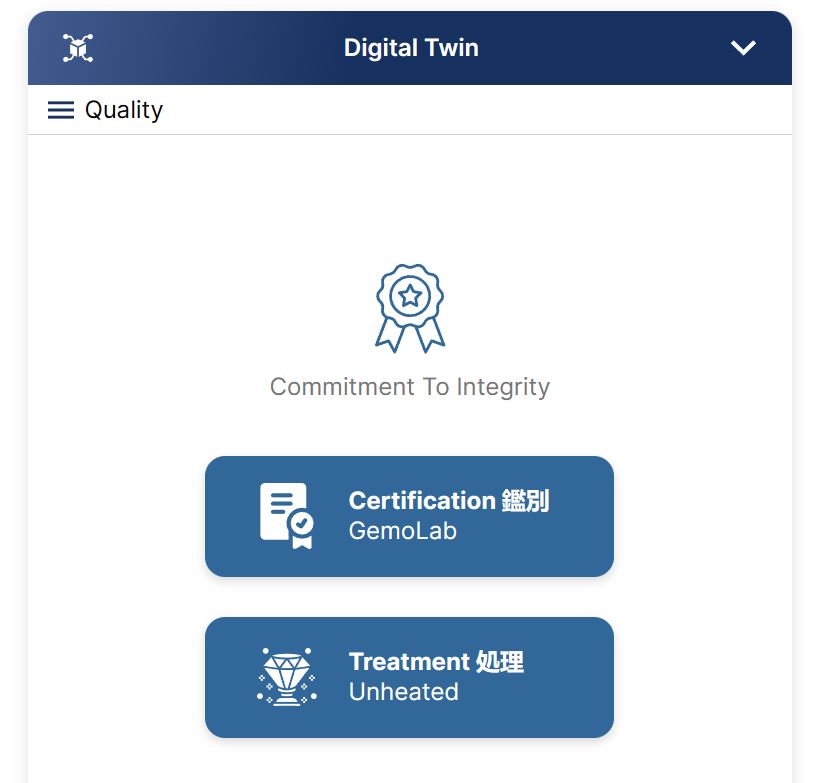 Displayed within the digital twin, the Quality Widget exhibits the gem's certifications.
3.6 Sustainability: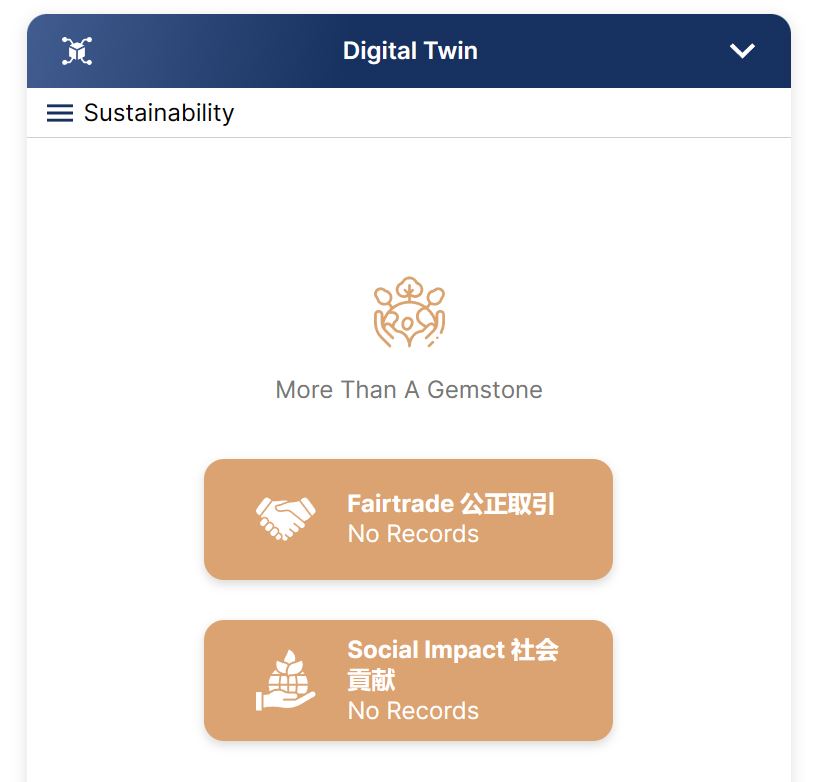 Explore information on fair trade practices and the gem's positive social impact. The widget showcases how the gem transcends aesthetics, embracing the values of ethical sourcing and community welfare.
3.7 Compliance: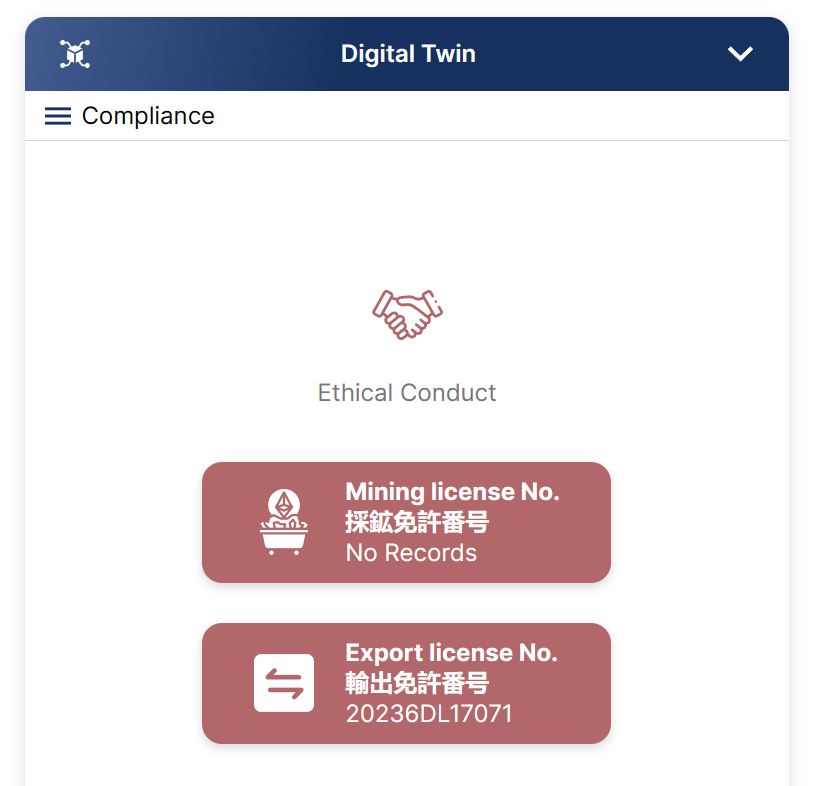 Responsible sourcing takes center stage with the Compliance Widget. Displayed within the digital twin are the gem's mining and export licenses, attesting to its ethical origins and adherence to international regulations.
3.8 Timeline: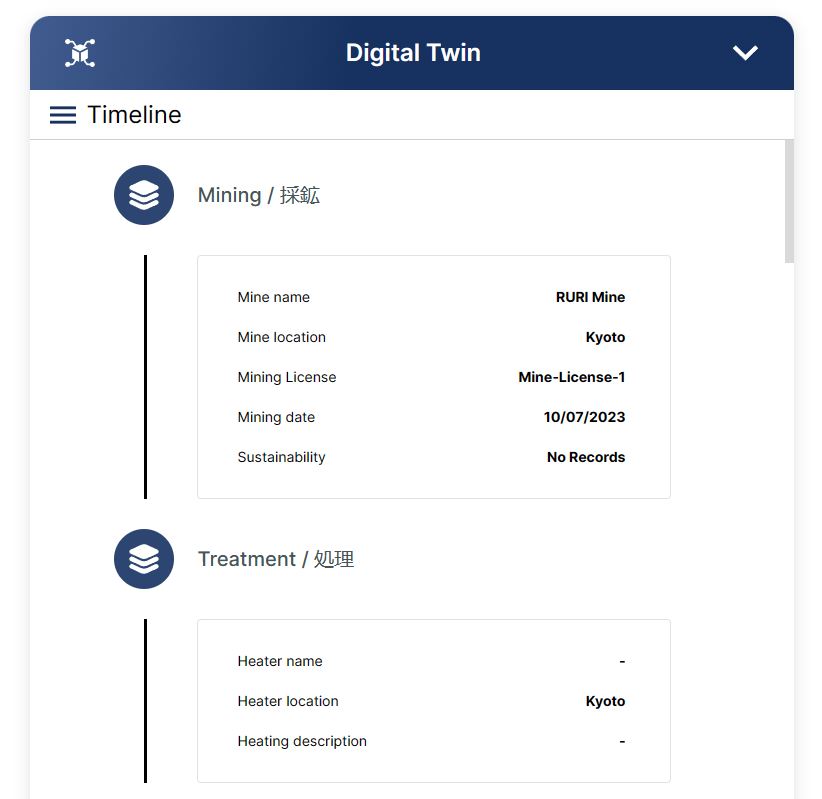 The pinnacle of the Digital Twin experience lies within the Timeline Widget. This element presents an intricate and detailed view of the gem's journey, starting from its very inception through the mining process and traversing every milestone of the supply chain until its arrival in Japan. This section provides customers with an unparalleled level of confidence, transparency, and understanding of the gem worth. Through the Timeline Widget, the gem's story becomes a profound narrative of trust and authenticity.
In a world where technology constantly redefines our experiences, the Digital Twin has transcended the boundaries of the tangible, allowing us to cherish the gem's beauty through an immersive and interactive lens. The virtual landscape we explored together has not only elevated the gem's value but has also created a space for genuine engagement and connection.